Duolingo app clone with Xamarin.Forms
Hey folks! How are you doing? After a while, here I am writing again! But today, there won't be any technical article. Instead, I'll share with you a series of live streams I'm doing to develop a Duolingo app clone with Xamarin.Forms. Do you interested? Then read on to find out more.
Why did I start these live streams? Well, recently, I had the opportunity to participate in some live streams on the Maratona Xamarin do Monkey Nights (live developing screens with XAML) and on Canal dotNET (Yellow app clone Part I and Part II). I enjoyed this experience so much that I decided to do my own live streams.
The main goal is to develop with Xamarin.Forms, a well-known application, to demonstrate how to build a professional and elegant app, showcasing the potential of the platform.
As of the publication date of this post, there are already seven parts of these live streams. I'm doing simultaneous broadcasts on Twitch and YouTube (choose your favorite social network and follow me there). For those who prefer YouTube, I created a playlist with the Duolingo live streams, making it easier to follow their progress.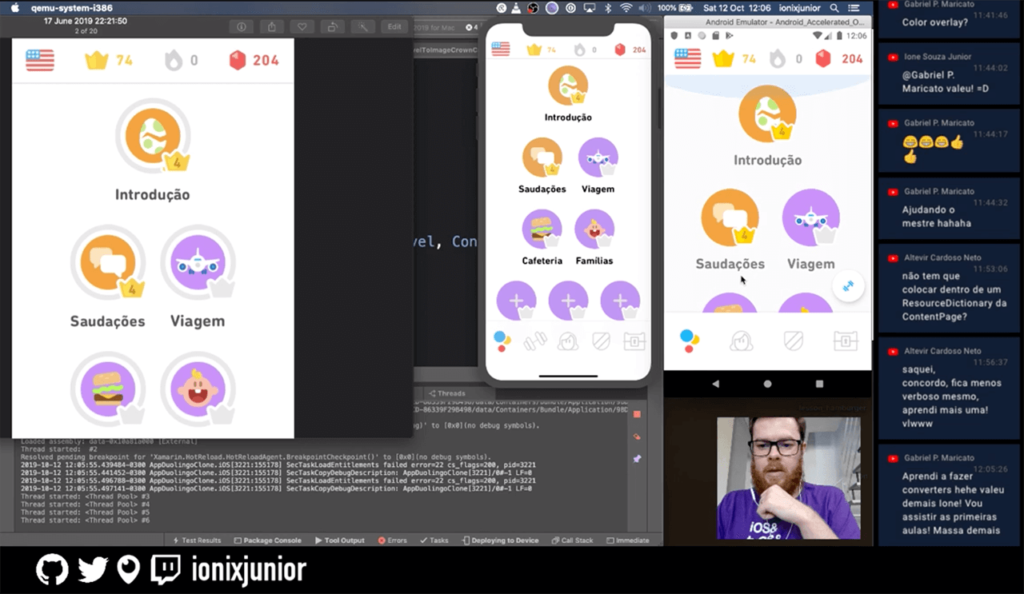 These live streams are held weekly, usually on Saturday mornings, and each lasts for about two hours. How about participating in the next live stream? Subscribe to the channels to be notified when the live stream starts, or follow me on Twitter. I always post there when the broadcast is about to begin.
So, are you ready to join the next live stream? I'll be waiting for you there. Cheers!